PANAGIOTIS
NIKAS
… goes beyond the conventions of survival and gives free rein to his creative imaginations!
Born in Athens, in 1970. Married to Natalia since 1994. Together they have three daughters, Corina, Iliana and Victoria. Corina and her husband, Theodore, have added a new member to the family, their son Jason. Panagiotis has been professionally working with coffee since 1987. His multidimensional activity and evolutionary changes in the area of coffee have created the need to share his knowledge with the average consumer. As a result of this need, in 2019, he published his first authorial work, under the title: "The Home Barista Handbook". With his work "On a Coffee Trip in Ethiopia", he is launching a series of books with stories of his travel experiences in countries where coffee is grown.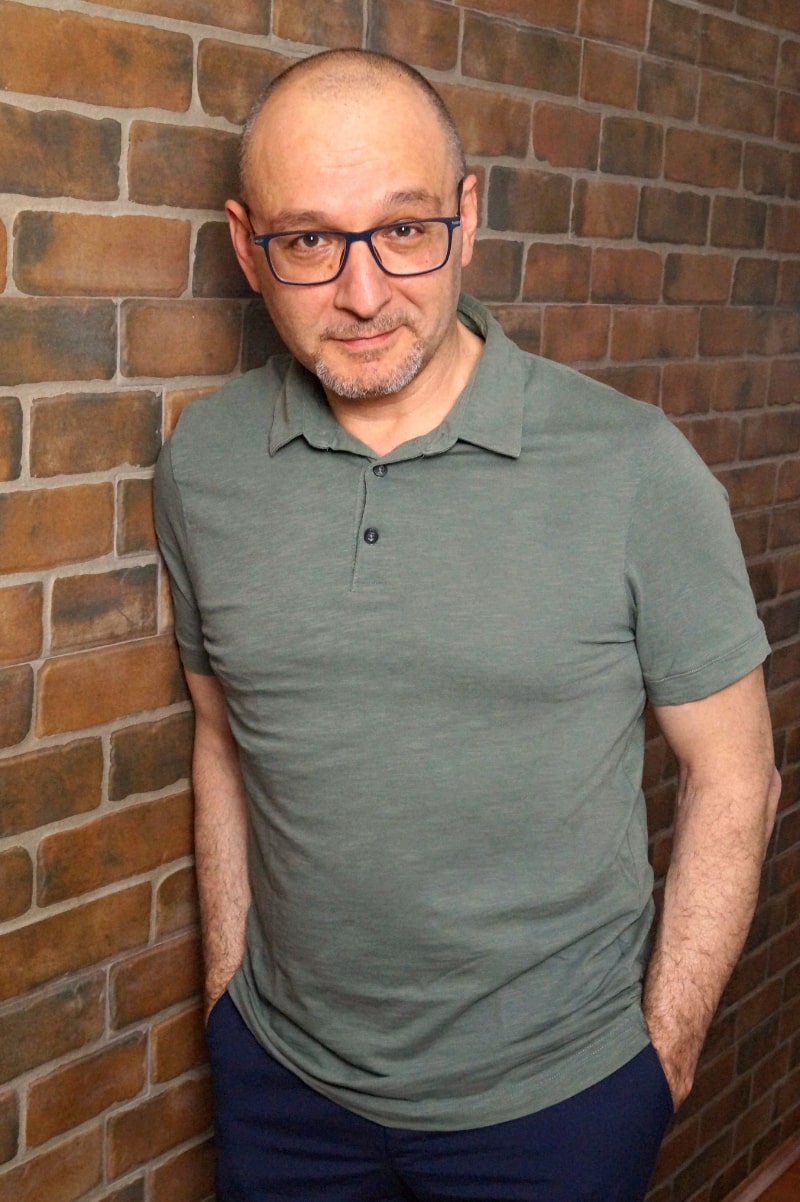 THE FIRST STEPS
I studied computer engineering at South Eastern College and in parallel i start working in Lentzos coffee shop.

As an excellent student I worked as an assistant professor, was nominated and accepted to George Washington University.

A goal that was never achieved, because coffee won me over.
First business attempt a summer canteen in Agios Apostolos, which I "took off" serving the mythical frappe of Lentzos.

In 1991 I took over my first big store of the Deliolanis chain in Kallithea and in 1993 I took over that of Pagrati.

The success of their management led me in the early 2000s to undertake the development of the chain network which I did successfully until 2003.
THE NEXT STEP
The rapid growth of caffeination led me to the creation of "Coffeexpert".

The company was initially active in the organization of mass catering companies and developed into an import and commercial one.

My passion for knowledge transfer and my love for education became the catalysts for the creation of "Barista Academy".

With my own material and method I train the interested baristas in the search for the secrets of coffee.
---
CREDITS TO
On my coffee road trip I was helped by many friends I want to mention.

First of all, the late Christos Lenzo, who gave me the opportunity to get to know the world of coffee, trusted me and shared with me the "secret" of his own frappe. George Deliolanis my guide and collaborator. When will I not forget his phrase "The problem is the threshold of progress".

My teachers Vassilis Konomos and Fotis Lefa who have such kindness that it reaches the limits of piety. Angelos Chrysafis who, with his insistence on organizing and training in the field of mass catering, changed my perspective. The "brother" Ioannis Dritsas who allowed me to write my first book and many others who helped me individually in their own way.

I can not but refer to my father, who, although he left early, supported me in the most difficult moments of my career, my wife and my daughters, without whose support and patience nothing would be the same.
---
"There are seven sins in the world: Wealth without work, Pleasure without conscience, Knowledge without character, Commerce without morality, Science without humanity, Worship without sacrifice and politics without principle."
MAHATMA GANDHI